Department of Commerce

Flags of Senior Officials
On this page:
Related information:
Return to Sea Flags home page
The personal flags of senior officials of the Department of Commerce are displayed aboard ships of the National Oceanic and Atmospheric Administration in the same manner and under the same conditions as those of the Department of Defense and the Department of the Navy are displayed aboard ships of the Navy and those of the Department of Homeland Security aboard Coast Guard cutters. All four flags are variations on the same design, the Departmental shield (a full-rigged ship above a lighthouse) in the center, with a star in each corner. The flags are also used in the offices of each official and at other locations where the official is the senior present. They can also be flown in a smaller size on the front of automobiles. When displayed indoors or on a portable staff, all the flags measure 52 by 66 inches, are trimmed with golden yellow fringe, and are equipped with golden yellow cords and tassels. (Departmental Administrative Order 201-6)
Secretary of Commerce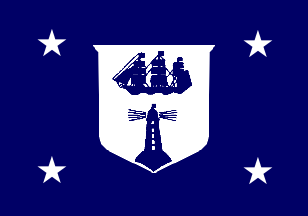 A flag for the Secretary of Commerce and Labor was approved in 1910, but superseded by the current design in 1913 when the Department of Labor was broken off to become an independent department.
---
Deputy Secretary of Commerce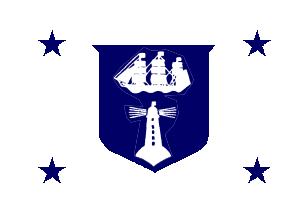 ---
Under Secretary of Commerce
Assistant Secretary of Commerce
General Counsel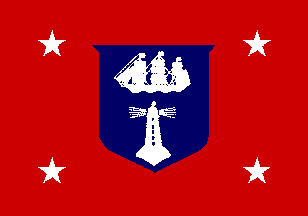 ---
Heads of Primary Operating Units of the Department of Commerce
---
Sea Flags
Copyright 2000, 2001 by Joseph McMillan