| | |
| --- | --- |
| | Other Maritime Organizations |
On this page:
Return to Sea Flags home page
Advocacy and Support Organizations Navy League of the United States
The Navy League is a private non-profit organization founded in 1902 to advocate a strong U.S. Navy, Marine Corps, Coast Guard, and Merchant Marine and to support personnel serving in the sea services, their families, and veterans. The Navy League flag has changed a number of times in the 100+ years of the group's existence. The present flag is the recently adopted brand identity mark in gold on a blue field.
Among the many programs supported by the Navy League is the U.S. Naval Sea Cadet Corps for education and training of youth from 11 to 18 years of age.
---
Scientific Institutions
National Geographic Society
Explorers Club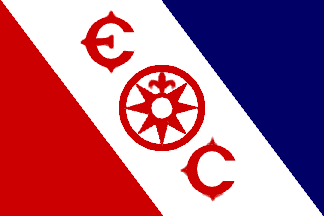 The Explorers Club, based in New York, was established in 1904 to encourage exploration and field research. Each expedition sponsored by the club is issued with a numbered club flag, which is displayed during the expedition and then returned to the club with the report of the results of the research.
Woods Hole Oceanographic Institution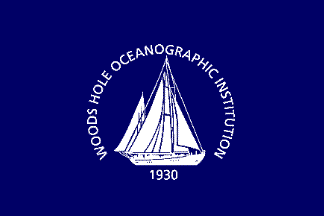 Woods Hole, founded in 1930, is a private, nonprofit research and educational organization headquartered at Woods Hole, Mass. It is the largest independent oceanographic institution in the United States and operates a number of research vessels (some under contract to the U.S. Navy and National Science Foundation), small boats, and underwater vehicles.
---
Museums and Memorials
Mystic Seaport
---
Return to top of page
---
Sea Flags
Copyright 2000, 2001 by Joseph McMillan