| | |
| --- | --- |
| | Maritime Administration |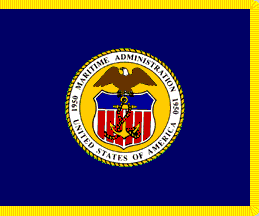 On this page:
See also:
Return to Sea Flags home page
Maritime Administration
The Maritime Administration, known as MARAD, is an agency of the Department of Transportation charged with developing and maintaining the capabilities of the U.S. merchant marine, seaports, and shipbuilding industry to ensure that they are capable of carrying domestic commerce and a substantial portion of foreign commerce, and of supporting national defense requirements in time of war or emergency. MARAD maintains and operates the National Defense Reserve Fleet (NDRF) and Ready Reserve Force (RRF) of vessels owned by the U.S. government for use in a national emergency. It supports and assists the maritime academies run by various states to train merchant marine officers and operates the United States Merchant Marine Academy at King's Point, New York. MARAD was formed in the Department of Commerce in 1950 as a successor to the U.S. Maritime Commission (founded 1936), which was in turn the successor of the U.S. Shipping Board (founded 1917). With the exception of the inscription on the rim of the seal, the MARAD flag is essentially the same as that of the old Maritime Commission. It is not used aboard ship; vessels of the RRF are distinguished by red, white, and blue stripes around their stacks and fly their own distinctive flag.
---
Personal Flags of MARAD Officials
The senior officials of the Maritime Administration have flags based on that of the administration itself, but with a white field and blue stars indicating position: three stars for the Administrator and two for the Deputy Administrator. The flags are three by four feet with golden yellow fringe for indoor display.
Administrator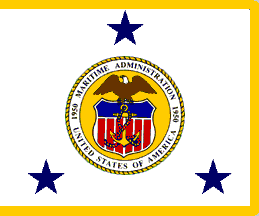 Deputy Administrator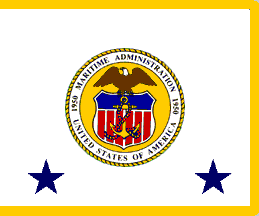 ---
Ready Reserve Force
The Ready Reserve Force (RRF) was created within the National Defense Reserve Fleet in 1976 to support the rapid worldwide deployment of U.S. military forces by transporting unit equipment and follow-on supplies. The RRF consists of 68 vessels, four of them in full operational status overseas, two on loan to state maritime academies as training ships, and the others normally maintained in reserve in a condition in which they can quickly be crewed and activated. Some 40 of them have been employed in support of Operations Enduring Freedom (Afghanistan) and Iraqi Freedom since 2001. The flag of the RRF was introduced in connection with the force's 25th anniversary in 2001.
---
Sea Flags
Copyright 2000-2002 by Joseph McMillan